www.design-reuse-embedded.com
Find the Latest SoC Solutions for... Automotive... IoT... Security... Audio... Video
M31 Receives ISO 26262 Development Process Certification and Enters Advanced Automotive Electronics Market
Taiwan Hsinchu - June 20, 2018 -- M31 Technology Corporation (stock code: 6643), a global Silicon Intellectual Property (IP) boutique, today announced that it has obtained the certificate for vehicle functional safety - ISO 26262 development process from the German certification organization SGS-TÜV. With its rigorous IP development and validation process, M31 will provide the industry with more secure and reliable vehicle IP to enter the advanced automotive electronics market.
ISO 26262 is hailed by the international vehicle industry as the most advanced automotive safety technology standard today, and has become the norm for global auto manufacturers and the automotive industry supply chain to invest in and try to meet. With the increasing complexity of automotive electronic systems, the ISO 26262 standard provides a set of vehicle-specific methods that allow system engineers to follow thorough verification and validation procedures in order to analyze whether the functional safety of automotive electronic products meets the requirements of the different Automotive Safety Integrity Levels (ASIL).
HP Lin, CEO of M31 Technology, stated that "The functional safety design is highly valued in the automotive field. ISO 26262 standard has become a key requirement for all automotive SoC and IP designs. In order to meet stringent automotive grade requirements, M31 actively invests in the development process certification of ISO 26262 with the purpose to establish a safety culture that includes principles, processes, and strategies. M31 will authorize specialized management personnel to participate in the development process of key IPs to provide the industry with safer and more reliable automotive IPs and to expand the market for automotive electronics."
M31 currently has seven team members who possess the ISO 26262 road vehicle functional safety expert licenses to assist in the implementation of automotive IP design processes in accordance with ISO 26262 safety regulations and management mechanisms. According to this standard process development, M31's IP will help SoC customers meet OEM requirements in the design of automotive IC products. It will meet SoC's design requirements for ISO 26262 standardized functional safety, reliability, and quality to enable the creation of more advanced applications for the automotive electronics market.
HP Lin, CEO of M31 Technology, added, "In the next phase, M31 will continue to invest in various IP for product certification under the ISO 26262 standard, including both fundamental and high-speed interface IP. In the future, M31 will strive to expand the IP penetration rate of mainstream applications such as mobile devices, Internet of Things, AI, wearable products, and automotive electronics. M31 will maintain its emphasis on the highest level of craftsmanship and strive to be the very best in service and technology, in order to provide the highest quality boutique IP and to become the most trustworthy IP company worldwide for the semiconductor industry."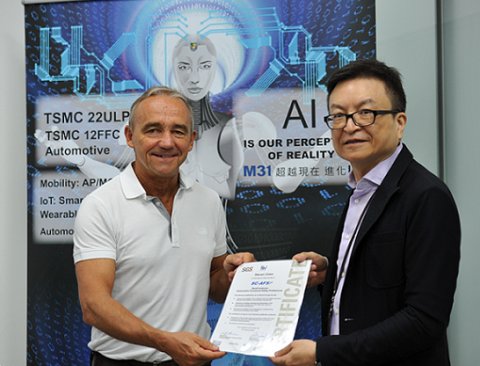 About M31 Technology
M31 Technology Corporation is a leading silicon intellectual property (IP) provider. The company was founded in July, 2011 with its headquarters in Hsinchu, Taiwan. M31's strength is in its R&D and customer services. With substantial successful experiences in IP development, IC design and electronic design automation fields, M31 focuses on high-speed interface IP, memory compilers, standard cell library and ESD/IO library solutions. For more information please visit www.m31tech.com