Unlocking the full potential of Body Bias with FD-SOI to design the most energy-efficient SoC
Frederic Renoux,eVP Sales et Marketing,Dolphin Integration,France
Biography :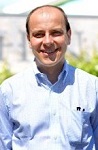 Frederic Renoux is executive Vice President of Sales and Marketing at Dolphin Integration. He is with the company since 1994 and has handled several positions in marketing and sales. Frederic graduated from Grenoble School of Management where he majored in Industrial Marketing and Finance with a minor in technical engineering.
back to the program
Partner with us

List your Products

Suppliers, list and add your products for free.

© 2021 Design And Reuse

All Rights Reserved.

No portion of this site may be copied, retransmitted, reposted, duplicated or otherwise used without the express written permission of Design And Reuse.