Pre-Silicon Security Evaluation : Security Verification Towards EDA
Ismail GUEDIRA - Secure IC SAS - France
Biography :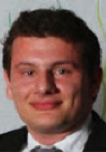 Ismail GUEDIRA is in charge of Secure-IC Sales & Marketing - EMEA. He started his career at Texas Instrument, where he was in charge of different actors in the Automotive Market. During that time, he developed a special relationship with French Car OEM and European Tier1 on various subjects such as Infotainment, ADAS, Electric Vehicles etc. Graduated in Analog and Digital Embedded Electronics Systems from "Grenoble-INP Phelma" in France. He is now involved in the development of Secure-IC in Europe on various Markets such as Banking, Smart Cards, Automotive ant IoT.
back to the program
Partner with us

Visit our new Partnership Portal for more information.

Submit your material

Submit hot news, product or article.

List your Products

Suppliers, list and add your products for free.

© 2018 Design And Reuse

All Rights Reserved.

No portion of this site may be copied, retransmitted,
reposted, duplicated or otherwise used without the
express written permission of Design And Reuse.