Pre-Silicon Security Evaluation : Security Verification Towards EDA
Ismail GUEDIRA - Secure IC SAS - France
Biography :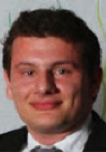 Ismail GUEDIRA is in charge of Secure-IC Sales & Marketing - EMEA. He started his career at Texas Instrument, where he was in charge of different actors in the Automotive Market. During that time, he developed a special relationship with French Car OEM and European Tier1 on various subjects such as Infotainment, ADAS, Electric Vehicles etc. Graduated in Analog and Digital Embedded Electronics Systems from "Grenoble-INP Phelma" in France. He is now involved in the development of Secure-IC in Europe on various Markets such as Banking, Smart Cards, Automotive ant IoT.
back to the program
Partner with us

List your Products

Suppliers, list and add your products for free.

© 2021 Design And Reuse

All Rights Reserved.

No portion of this site may be copied, retransmitted, reposted, duplicated or otherwise used without the express written permission of Design And Reuse.