Adding SALTTM to Product Lifecycle Management for IP Tracking and Silicon Configuration
Jérôme Rampon,CEO and co-founder,Algodone,France
Biography :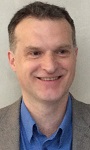 Jérôme is CEO and co-founder of Algodone, a french startup which developed an embedded DRM solution for the semiconductor industry. Algodone allows to securely activate chips and their features at runtime, with a simple firmware license key that is unique for each physical device. Previous to Algodone, Jérôme created the R&D office at Montpellier for the American startup, Synplicity (NASDAQ 2002). Previous to Synplicity, he was co-founder of Veriphia at Sophia-Antipolis whose integrated circuit formal verification engine was acquired by Xilinx in 2001. Before that, he was R&D Engineer at IST technologies (acquired by Xilinx in 1995) then Compass DA, Avanti and Synopsys.
back to the program
Partner with us

List your Products

Suppliers, list and add your products for free.

© 2021 Design And Reuse

All Rights Reserved.

No portion of this site may be copied, retransmitted, reposted, duplicated or otherwise used without the express written permission of Design And Reuse.