High-Performance Interface IP : When Big Data Meets High Compute
Rishi Chugh,Head of Marketing,Interface IP,Cadence Design Systems,Inc.,USA
Biography :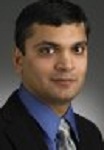 As Head of Product Marketing , Rishi Chugh is responsible for High Speed Interfaces in IPG Division of Cadence Design, as well as leading specific product management & planning activities. Prior to joining Cadence in Aug 2017, Mr. Chugh held Sr. Director role at Cavium, managing their Data Center Processor division and was responsible for the ThunderX2 product line. Prior, Mr. Chugh has held Product Marketing role at Broadcom's Data Center switch product line managing the Trident switch product line. Mr. Chugh has over 18 years of industry experience working at Cavium, Broadcom, Altera, LSI and Artisan Components (acquired by ARM). Mr. Chugh holds a Bachelor of Electronics degree from the University of Bombay in India, a Master's of Science degree in Electrical Engineering from San Jose State University and an MBA from Santa Clara University.
back to the program
Partner with us

List your Products

Suppliers, list and add your products for free.

© 2021 Design And Reuse

All Rights Reserved.

No portion of this site may be copied, retransmitted, reposted, duplicated or otherwise used without the express written permission of Design And Reuse.