Security from Silicon to Software
Ruud Derwig, Senior Staff Engineer, Synopsys
Biography :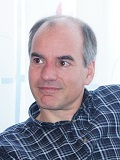 Ruud Derwig has 20+ years of experience with software and system architectures for embedded systems. Key areas of expertise include (real-time, multi-core) operating systems, media processing, component based architectures, and security. He holds a master's degree in computing science and a professional doctorate in engineering. Ruud started his career at Philips Corporate Research, worked as a Software Technology Competence Manager at NXP Semiconductors, and is currently a software and systems architect at Synopsys.
back to the program
Partner with us

List your Products

Suppliers, list and add your products for free.

© 2021 Design And Reuse

All Rights Reserved.

No portion of this site may be copied, retransmitted, reposted, duplicated or otherwise used without the express written permission of Design And Reuse.