f
Virtual digital sensor for analog signal processing on SoCs
Vinay Bansal - Faststream Technologies - CEO - USA
Biography :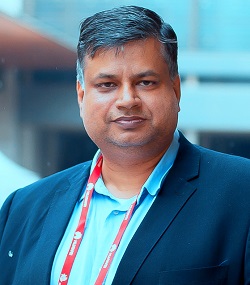 Vinay Bansal, as Chief Executive Officer, sets the strategic direction to Faststream Technologies that lies at the intersection of business sustainability, business strategy and organizational theory, driven by keeping the customer at the core of every process. Vinay has initiated and led 28nm SoC projects, assigned roles and responsibilities, and designed workflows. He has directed a simplified design process for a capacitive proximity sensor system to provide sensor flexibility by integrating all of the front-end analog circuitry into a single AFE device. Vinay helped strategize the embedding process of multiple components in a single chip including SerDes, on-chip memory for GPON ONU, and microprocessors for intelligent control and management, and also incorporating multi-layer protocol functionality and packet processing into a single chipset. He has guided a team project in developing a custom low noise-power AFE for detecting neural firings on the surface of the skin, sampling that information and routing it to a DSP core. Vinay has integrated solutions with common optical functional blocks, such as Transceiver, EDFA, ROADM. He has worked extensively in the fields of IoT, Semiconductor, FPGA, Embedded Systems. Vinay holds a Bachelor's in Electronics and Telecommunications degree from MITS, Gwalior, India.
back to the program
Partner with us

List your Products

Suppliers, list and add your products for free.

© 2021 Design And Reuse

All Rights Reserved.

No portion of this site may be copied, retransmitted, reposted, duplicated or otherwise used without the express written permission of Design And Reuse.