Santa Clara Event >>

January 26, 2017

Bangalore Event >>

April 5, 2017

Shanghai Event >>

September 14, 2017

Grenoble Event >>

December 6-7, 2017
Fast Estimation Approach for Statistical Eye Diagram in 28nm FD-SOI Technology
Abdelgader M.Abdalla
Biography :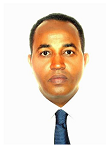 Abdelgader M.Abdalla received his Ph.D in Telecommunications Engineering from MAP-Tele Doctoral Programme, Universidades de Minho, Aveiro, Porto (MAP-Tele), Portugal, October 2014, In December 2014, he joined Instituto de Telecomunicações (IT) - Aveiro as a Senior Researcher. He is currently working on European research project ENIAC-THING2DO in IT Portugal as technical manager. His main research interests include low-power nanoscale integrated circuit design, systems-on-a-chip design for optical and wireless communications, and DSP-enhanced high-simulation runtime mixed-signal integrated circuit design, FPGA/ASIC Design of high-simulation runtime digital and optical communication devices as well as nonlinear modelling for Nanotechnologies. He is the author of several journal and conference publications. He is an active IEEE member, acting as TPC member and reviewer for a number of respected conferences, journals, and magazines.
back to the program
Partner with us

List your Products

Suppliers, list and add your products for free.

© 2023 Design And Reuse

All Rights Reserved.

No portion of this site may be copied, retransmitted, reposted, duplicated or otherwise used without the express written permission of Design And Reuse.