Santa Clara Event >>

January 26, 2017

Bangalore Event >>

April 5, 2017

Shanghai Event >>

September 14, 2017

Grenoble Event >>

December 6-7, 2017
Achieving Low power with Active Clock Gating for IoT in IPs
Chaitanya Kamasani,ASIC DESIGN ENGINEER -II,Synopsys Inc.,INDIA
Biography :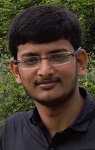 Chaitanya immediately after his masters from NIT Trichy joined Synopsys India on 2015. He has been working as an ASIC Design Engineer for USB products. His areas of interest includes low power designs such as Clock Gating, UPF and design optimization.
back to the program
Partner with us

List your Products

Suppliers, list and add your products for free.

© 2023 Design And Reuse

All Rights Reserved.

No portion of this site may be copied, retransmitted, reposted, duplicated or otherwise used without the express written permission of Design And Reuse.